Johnson column: Toilet breaks in golf can be often be a spider's web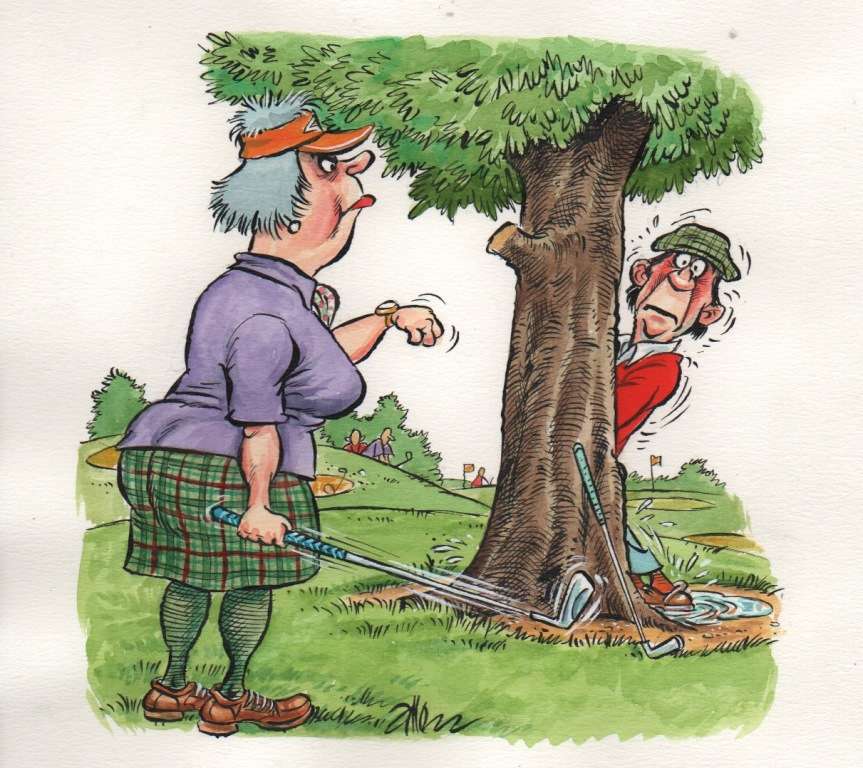 By Martin Johnson
One of my regular playing companions is not the most patient of men on a golf course, and whenever his shot is delayed by having to wait until the four ball in front  finally vacates the green after taking 16 putts between them, you can more or less guarantee a prolonged bout of harrumphing followed by a double bogey.
Which is odd, because his other hobby is bird watching, and he'll happily sit for hours on the off chance that somewhere in that tree he's got his binoculars trained on he'll get a fleeting glimpse of a lesser-spotted, orange- breasted, hooked-billed, upper-Norfolk pond-hopper.
Offer him a hole-in-one, or a garden visit from a fringilla coelebs (a chaffinch to you and me) and the bird beats the eagle every time.
However, there's a growing breed of people who've found a way, in a manner of speaking, to combine the two. They also sit for hours, albeit indoors on a sofa, and instead of a pair of binoculars, they're clutching a TV remote control.
So the next time you walk past a pair of heavily curtained front windows and hear a cry of  "Gotcha!" it's almost certainly one of those ghastly ­television golf vigilantes who've just spotted a golf ball move after address.
Following the Dustin Johnson nonsense in the US Open, it was the turn of Jordan Spieth in the opening round of the US PGA to become the latest golfer to roll his eyes in disbelief at yet another instance of the Rules Of Golf making the sport look even more ridiculous than a pair of John Daly's trousers. Which, while we're on the subject, should be an automatic two-stroke penalty every time he tees it up.
The Spieth business was all about having one of his heels in a puddle after taking relief from casual water, prompting an ­immediate inquiry as to whether there had been a breach of the rule which demands that a golfer takes full, rather than partial, relief in such circumstances.
For the small army of TV watchdogs out there, this was the equivalent of an excited twitcher reporting a sighting (and my thanks to the Bird Info Hotline website for this one) of a male Iberian chiffchaff three miles north north east of Telford at 16:15 on Friday, April 15.
As it happens, this business of partial relief cropped up at my club not too long ago, when one of our number, who had indulged himself in a second pint at the bar before going out, was casually recycling his intake of  Old Speckled Hen against a tree trunk when he was forced to abort on account of the lady captain appearing from an adjacent hole and trilling:  "I say. Has anyone seen a Calloway 3?"
I had no idea at the time that this might have constituted a penalty under Rule 25-1, otherwise we might have imposed the full sanction of two strokes. Neither would we have entertained his argument that, upon the lady captain finally returning to join her companions, full relief was finally taken.
"No, no!" we would have insisted.  "This time we've got you under Rule 6-7, which requires a golfer to proceed without  'undue delay'."  And as far as can be determined, attending to a call of nature does not constitute a valid excuse for the waiving of this rule if the taking of relief requires an unacceptably long time. Such as having to return to the clubhouse on account of that fiery vindaloo that you indulged in the night before.
A toilet break, as it's known in tennis, would probably be looked upon more sympathetically by the committee were the player involved getting on in years. The bladder is slightly less adept at getting you round the full 18 holes than it was when you were younger, unless you are Gary Player, who has doubtless trained himself to go – camel like – for several days without taking relief.
Spieth survived the full relief inquiry, not to mention a penalty for undue delay, as the real surprise about his next shot was not so much that he had his heel in casual water at the time, but that the water hadn't evaporated by the time he got round to hitting his ball.
One of the odder cases of a two-shot penalty for undue delay involved a toilet break, albeit indirectly, during the British Seniors Open at Turnberry in 2012. An American competitor named Peter Oakley was employing his wife Jennifer as a caddie, and when he walked to the 13th tee to drive off, she headed off with his clubs to act – given that their group wasn't attracting too much spectator interest – as a ball spotter.
It was a windy day, and when she took temporary shelter behind a toilet, the thud from a golf ball landing nearby prompted her to set off to help in the search. During which she said to the golfer whose ball it was: "Excuse me, but you're not my ­husband."  Or something similar.
It transpired that the ball had come from another tee, with her husband a hundred yards away waiting in a bunker for the arrival of a sand wedge, plus 13 other clubs, and his wife. However, by the time she eventually arrived with a "sorry I'm late dear" it was too late. Two extra shots on the scorecard.
The Rules of Golf are such a spider's web (which is a loose impediment under definitions in case you're wondering) of intrigue, that I offer you the following scenario. Player A hits a snake with his tee shot, and kills it, altering the snake's status from an outside agency to a loose impediment.
In moving the dead snake, Player A accidentally moves his ball (Rule 18-2a one stroke penalty) forgets to replace it (two-stroke penalty) and hits it into a bunker, which makes him so angry he throws his club away and hits his own bag (Rule 19-2 one-stroke penalty). He then thins his bunker shot into the clubhouse bar (which is not out of bounds) before playing a miraculous recovery through an open window to three feet, and after removing an embedded acorn from his line (Rule 16-1a two-stroke penalty) holing out.
Does he A) sign for a plucky 10? Is he B) disqualified, after an eagle-eyed viewer phones in to report that his shot from the bar was made at 4.31pm, one minute after the club rule required him to be wearing a jacket and tie.
Or C) is the viewer taken to the Tower of London and incarcerated, without undue delay (Rule 6-7) for life?
Personally, C gets my vote every time.
Tagged Jordan Spieth