Five classic Masters from years gone by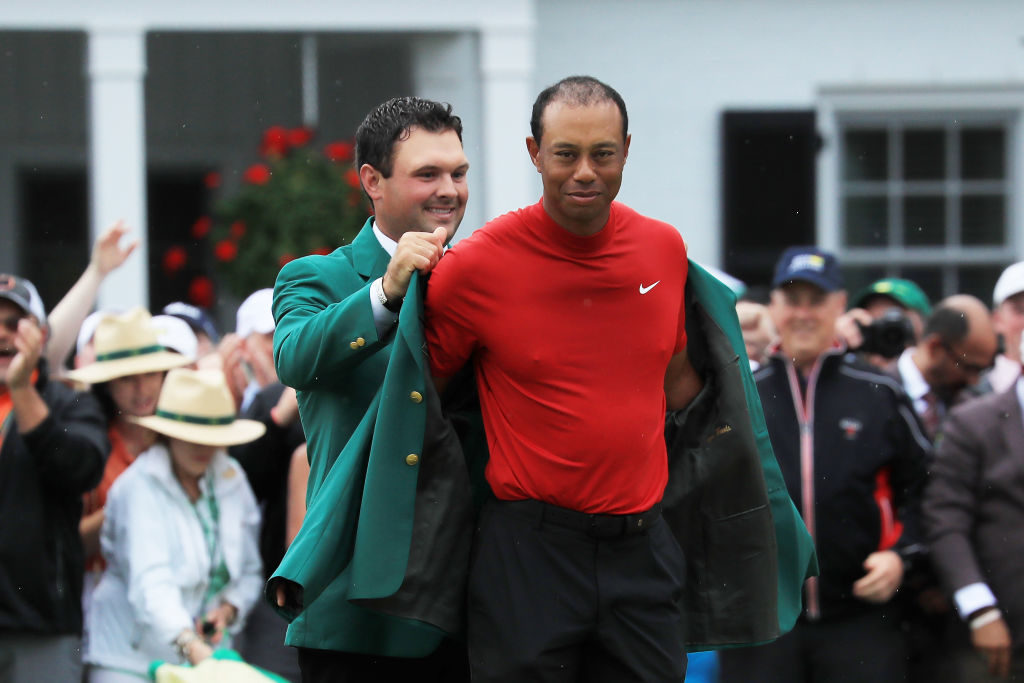 Each April the world's finest golfers converge upon Augusta to battle it out for the famous green jacket at the first major of the year. However, the famous course will be eerily quiet this year after the Masters had to be postponed due to the coronavirus pandemic. Organisers hope that it will run later in the year, but golf fans will have little to keep them entertained during the lockdown. With that in mind, we have rounded up the top five Masters tournaments in history for you to watch instead:
5. Woods Clinches First Green Jacket in 1997
A 21-year-old Tiger Woods ushered in an exhilarating new era when he surged to victory at Augusta in 1997. It came just seven months after he turned professional, but the hype surrounding him was immense. Woods had won three consecutive US Amateurs, he already had PGA Tour wins under his belt and the fans clamoured to catch a glimpse of the so-called future of golf. He shot an underwhelming front-nine 40 on the first day, but then followed up with a back-nine 30 to finish -2 for the day.
Woods then destroyed his illustrious rivals with rounds of 66, 65 and 69 to finish 18 under par and win by 12 shots. He became the youngest ever Masters winner, and his margin of victory was the largest in history. "He's more dominant over the guys he's playing against than I ever was over the ones I played against," said Jack Nicklaus after watching his 32-year record of -17 evaporate. "He's so long, he reduces the course to nothing. Absolutely nothing." Woods was named world number one just a couple of months later, and he had won the green jacket three more times by 2005, but that was his finest ever performance.
4. Faldo Capitalizes on Norman's Collapse in 1996
Greg Norman held a seemingly unassailable six-stroke lead as he headed into the final round of the Masters in 1996. However, Nick Faldo found a way to torpedo The Great White Shark during 18 holes of thrilling golf. The old rivals were playing partners for the final day, and that seemed to unsettle Norman, while Faldo was coolness personified. Norman fell apart. He found the water twice, and eventually went round in 78. Faldo shot a stunning 67 to claim his third Masters title.
It equalled the record for the largest comeback in the history of the famous tournament. The day was memorable not only for Norman's choke, but also for a masterful performance from Faldo. The two rivals embraced one another in a lengthy bear hug on the final green. It remains one of the most iconic moments in sporting history.
3. Mize Manages Impossible Shot in 1987
Norman finished runner-up three times at the Masters, but this was probably the most heartbreaking of them all. It all came down to a three-way playoff between Norman, Seve Ballesteros and local hero Larry Mize. The Spaniard was quickly eliminated. Mize hit a woefully wayward shot on the deciding hole, leaving Norman with one arm in the green jacket. Yet Mize then pulled off the most sensational shot in Masters history.
The little known pro from Augusta chipped in from 140 feet, causing gasps of astonishment from the crowd. You will never see a more ridiculously perfect shot at such a crucial moment. Mize began jumping for joy as the ball nestled in the cup, leaving Norman with a tricky birdie putt to level. He missed, sparking scenes of jubilation in the crowd. Mize would never win another major, but he can dine out on that chip for the rest of his life.
2. Jack Nicklaus Rolls Back the Years in 1986
Nicklaus was well past his prime when he showed up at Augusta aged 46. It was four years since his last major, and nobody gave him a chance of returning to the summit of the sport. He trailed Norman, Ballesteros, Bernhard Langer, Nick Price, Tom Kite and Tom Watson ahead of the final round of play, and he was four shots off the pace with just nine holes remaining. Yet Nicklaus then rolled back the years and delivered the finest charge in Masters history.
The Golden Bear rattled off an astonishing five birdies and eagled the 15th to finish nine under for the day. He then sat back in the clubhouse and watched all of his rivals fail to match his score. Norman and Kite came closest, but Nicklaus ended up finishing one shot clear of both of them. He was the oldest Masters winner in history and the second oldest major winner. It earned him a cool $144,000, more than seven times the amount he received when he first won the Masters in 1963. It was also his 18th major, which still stands as a record to this day.
1. Tiger Roars Again in 2019
Woods had been dragged to the depths of personal and physical despair by the time he stepped into battle at last year's Masters. It was 11 years since he had last won a major and his chances of usurping Nicklaus' haul had all but evaporated. He was washed up, beaten up and broken. Yet Woods then pulled off an act of defiance that will stand as one of the greatest sporting performances of all time.
It was a moment of redemption for a man that obliterated his rivals at Augusta in 1997, dominated the sport for a decade and then slid into the abyss. Nobody ever expected to see him winning another major, but he found himself in contention when trailing Italy's Francesco Molinari by two strokes after 54 holes. He had never come from behind to win a major on the final day – he had either led or been tied for the lead after three rounds in each of his 14 previous triumphs – and it was Molinari that outduelled him to win The Open Championship the previous year.
However, Woods clawed away at Molinari on the final day and he ended up holding off a spirited challenge from Dustin Johnson, Brooks Koepka and Xander Shauffele to finish one shot clear of the chasing pack. His mother and children joined in the celebrations, and the groundswell of support for a rejuvenated Woods was spine-tingling. It was by no means his finest performance, but it was certainly his gutsiest. "It was an epic Sunday and a great day for golf," said Fred Ridley, the chairman of Augusta National Golf Club and the Masters Tournament. "It's one of the most amazing days in our history."
Woods can move to just two behind Nicklaus in the all time stakes if he wins the Masters later this year. If you check out the latest Masters odds, you will see that he is among the favourites for glory. He may be 44 years of age now, but he has already made his great comeback and he is now a leading contender whenever he plays.