From inside TGP: Paul Casey in danger of missing Cup deadline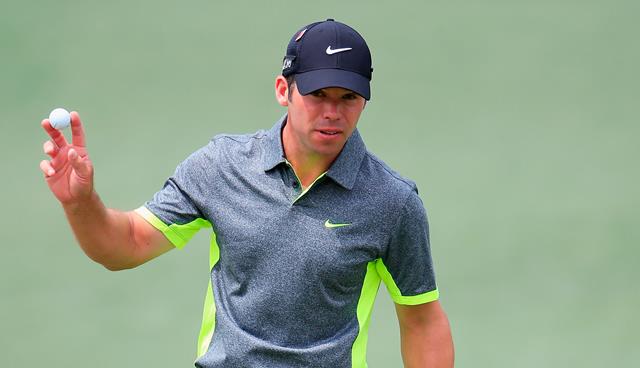 The fire burning inside Paul Casey to play in next year's Ryder Cup could be extinguished this weekend.
The 37-year-old resigned his membership of The European Tour at the end of last season and moved full-time to play on the US Tour.
He felt his wife Pollyanna Woodward, the former Gadget Show presenter, and their eight-month-old son would have a better quality of life living in America.
That decision automatically meant that Casey would not be qualified to take on the Americans at Hazeltine in September 2016.
But after running into one of the hottest streaks of his golfing career Casey did a U- turn during the The Masters last month.
Having played one of his rounds with European captain Darren Clarke Casey said: "There is a massive fire burning in me to be part of the Ryder Cup again."
But to achieve that ambition and win his third European cap and his first since Europe lost at Valhalla in 2008 he has to become a full member of the European Tour again. And while the qualifying tables to earn one of the nine automatic places in next year's team do not start until the autumn there is much earlier team membership deadline.
Casey will not be eligible to play for Clarke unless he re-signs for the European Tour before Friday May 1.
Yesterday, a Tour spokesman said: "As we speak he has not rejoined." If Casey does not sign it will be a bitter blow to Clarke's hope of retaining the Ryder Cup.
"From a team point of view I would love him to rejoin the European Tour," Clarke said. "He wants to. Hopefully he will. He would be a strong contender with the form he's in."
Clarke made that statement after playing alongside Casey as he was working towards finishing sixth in The Masters at Augusta equalling his previous best performance in the year's first Major in 2004.
And he was also reflecting that Casey has climbed back to 37th in the world with three other recent top ten finishes on the US Tour including second place at the Northern Trust Open.
*This article was originally published in The Golf Paper on 29 April 2015
Tagged Darren Clarke, Europe, European Tour, Paul Casey, Ryder Cup, The Golf Paper