There's just no cure for the golfing virus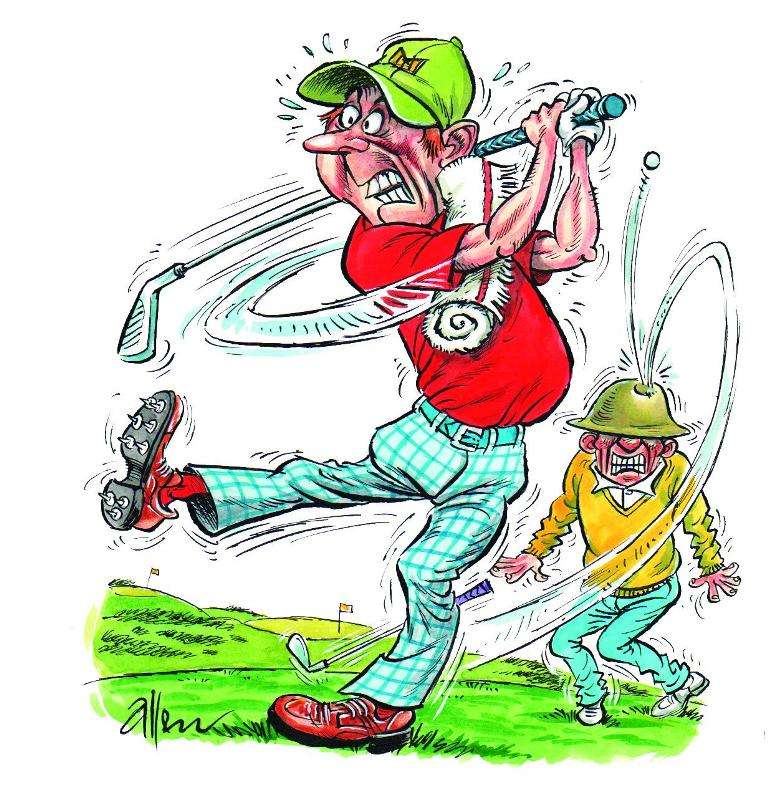 By Martin Johnson
Going to see your golf pro can be a bit like an appointment with your GP, especially if it involves one of those delicate, hard to talk about conditions liable to cause embarrassment.
After months of suffering in silence, you pluck up the courage to enter the shop, and finally you're all alone with the only person who can help you.
"It's like this, Tim," you say, looking around nervously in case one of the lady members might be browsing through the cardigan rack. "I've got, um, I mean to say I've contracted, er, how can I put this, I um…."
"Listen, how long have we known each other?" he replies.
"There's nothing I haven't heard before, so just spit it out."
"You don't understand," I say. "I can't. It's not as easy as that. It's, you know, when your ball goes, er, off to the right, a bit. Well, quite a bit to the right, ­actually, and, and…."
"Oh!" cries Tim. "So that's it! You've got the sh…."
"Please!" you shriek. "Don't mention that word! My partner nearly blurted it out in the monthly medal, but as luck would have it my ball hit him flush in the Adam's apple just as he was about to say it. You know. The S-word."
Most of us have been there. You're playing nicely, and are thinking birdie at the par five after leaving yourself a simple 30-yard pitch to the green.
However, instead of a pleasing click of the ball leaving the sweet spot, you hear more of a clang, followed by a thud, followed by a prolonged burst of industrial ­language from one of your playing partners.
If this is not your first experience of the shot that dare not speak its name, it doesn't require a Hercule Poirot to ascertain that the reason your ­partner is hopping up and down with his trouser leg rolled up is connected to neither a Morris dance, nor one of those rituals you associate with the Masons. It's the blood, and the purple throbbing vein that gives the game away. The dreaded     J Arthur. The Lucy Locket. The Sherman tank.
A you-know-what is comfortably the most frightening shot in golf, one that makes you positively pine for a slice or a hook. Even a stone-cold top.
After you've hit one, it's a rare golfer who sets up for his next shot without either closing his eyes, applying a grip like the Boston Strangler, or saying three hail marys before pulling the trigger.
And once you've had them, so the saying goes, you've got them. You can go months without one, but it's the same as a recovering alcoholic. One day at a time.
The other odd thing about a sh… (whoops, careful now) is that it afflicts good players as well as bad ones.
You won't have failed to notice that Henrik Stenson is in pretty decent form at the moment, but several years ago at the Seve Trophy, while walking the links in company with Graham Otway of this publication, Henrik very nearly beaned our Graham with a near ­perfect example of the genre.
When I reported this back at the media tent, there was a collective groan from the assembled hacks, possibly out of ­sympathy for the ­popular Swede, but more likely because he had only managed to chalk up a near-miss as opposed to a bullseye.
Darren Clarke might have won the 1997 Open at Royal Troon but for what we occasionally refer to as "one of those" when he was leading going into the final round.
Taking an iron off the second tee, his ball finished up down amongst the holiday makers on the beach, where, quite possibly, it was mistaken for a hard boiled egg in someone's picnic lunch.
My experience of a virus that, to a golfer, makes the Black Death or Zika look like a runny nose, came many years ago, shortly before I was preparing to play in a pro-am with Lee Westwood.
I phoned one of my playing ­companions the night before to inform him that I had been struck down by the disease, and would have to withdraw on the grounds that I might kill ­someone. Quite possibly Westwood himself."No, no," he said. "I know the cure. You have to stand on one leg." To which I replied: "I can't play 18 holes round the Belfry on one leg." But I did.
I ­suspect that Westwood didn't believe my story about a painful bunion ­preventing me from planting both feet on the ground, especially when I shrieked "no!" every time I caught a glimpse of him standing to the right of me, but I did manage 18 holes of straight shots, the longest of which must have been, oh, all of 30 yards.
There are other so-called cures out there, all of them the rough equivalent of applying chewing gum to the hole in the Titanic, but sufferers will try anything. There's a YouTube video recommending practising with a towel under the armpits during the swing, and another advising ­placing a head cover just to the right of your ball. Which, should your downswing be on an out-to-in plane, you'll hit.
A chum of mine tried this one out in his back garden a while ago, with one of those hollow balls, and he reckoned that he flushed the head cover with roughly nine shots out of ten before finally giving up when his head cover flew over next door's fence.
I don't personally know of anyone who creeps out on to the Moors on full moon nights and makes animal ­sacrifices to the God of the Hozel, but I dare say that he, or she, is out there somewhere.
It's the shame that gets to you, and one of the most charitable deeds I've ever heard of was ­performed by a toilet-maker ­determined to make the poor wretch who's just J Arthur-ed his way around all 18 holes feel a smidgeon better when he comes into the clubhouse to take a jimmy riddle.
As he bows his head (more to take aim than in sorrow) there, engraved in the porcelain, is the consoling revelation that Armitage shanks as well.
Tagged golf, Lee Westwood, Rio 2016, virus, zika