Late Bob Torrance left mark on Forbes with masterful coaching
By Jim Black
THE passing of Bob Torrance two years ago at the age of 82 left a huge void in the game. Dubbed the coach to the stars, the Largs legend was instrumental in fashioning a swing for Padraig Harrington that proved good enough to win the Irishman three Majors in the space of just 13 months.
Others who benefited from the Torrance magic include Ian Woosnam, David Feherty, Fred Couples, Stephen Gallacher, PauL Lawrie, Marc Warren, Paul Broadhurst, Eamonn Darcy,  Philip Walton, Anders Forsbrand and, of course, son Sam, to name but a few.
Even Tiger Woods sought out the gravel-voiced Scotsman for advice and made it known he'd welcome assistance from the Lochwinnoch-born "star maker". Seve was another.
But no-one felt the loss of the man who counted among his friends Ben Hogan than a young hopeful from Greenock.
Graham Forbes did not pick up a golf club until the age of 16 and even then it as purely by chance that he had a sudden desire to do so.
It was after watching a clip of Tiger Woods chipping in at Augusta in 2005 on You Tube that the youngster was compelled to try his hand at his local golf club with a set of clubs that had been left behind by an uncle who has emigrated to the States.
Within an afternoon he was hooked and within three years had turned pro after the briefest of amateur careers.
"I started too late to do much in the amateur game," he explained. "I played youths for Renfrewshire, but I wanted to play against the best and turned pro at 19.
"The Tiger clip was my inspiration. I had tried most sports apart from golf and I wanted to do be able to do the same as him. I was hooked straight away.
"I'd never had a golf club in my hand until then but I remember I hit a few good shots that day – probably they were pretty horrific, looking back – and I was immediately bitten by the bug.
"I suppose golf came pretty easy to me although I knew I'd have to work at it to become any good and I managed to get taken on as a PGA apprentice at Gourock Golf Club, where I was for a couple of years.
"But I was addicted to playing the game and as I wasn't managing to get in a lot of game time I left because I didn't feel I was getting anywhere. All I wanted to do was practice and play."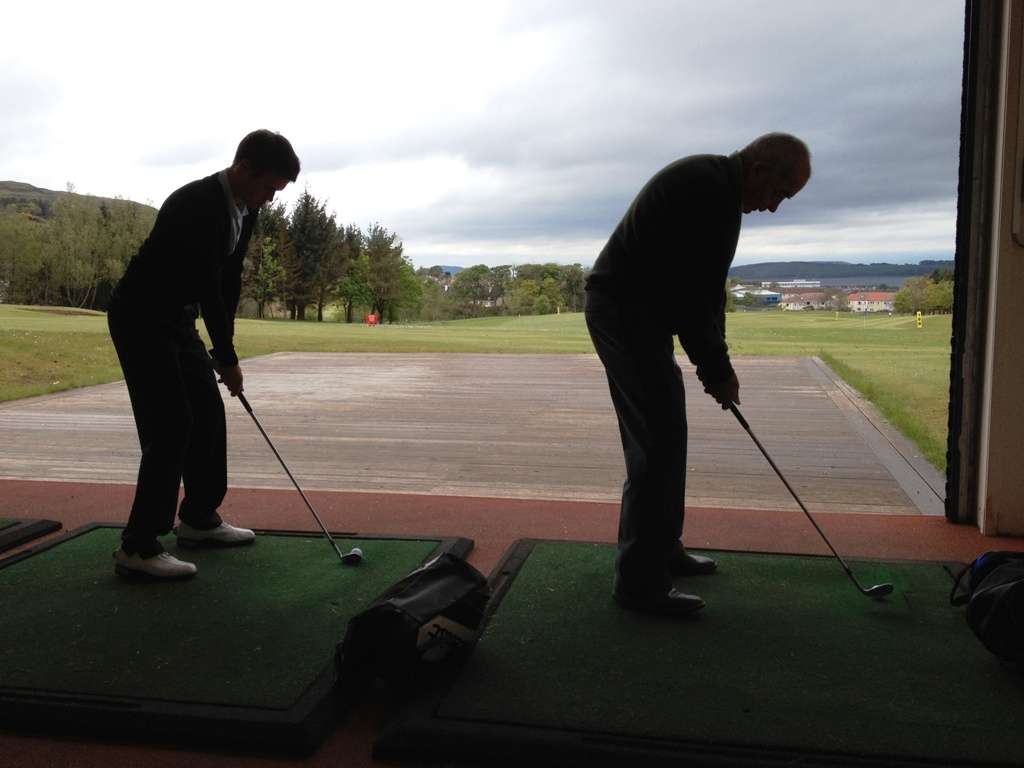 Forbes was aware of the Torrance legend but he had never encountered the great man until one day their paths crossed at Inverclyde Sports Centre in Largs.
The Bob Torrance School of Golf was the closest range to Forbes, just a few miles along the Ayrshire coast, and it was there that he went to work on his game.
"Bob was working with Chris Doak at the time and I knew Doaky to say hello to as his dad was a member at Gourock," said Forbes "and he spoke to me when I was down there.
"Bob also passed by as I was hitting balls and asked how it was going but he never actually stopped to have a look at what I was doing.
"Then one day he pulled up a chair and sat for a couple of minutes without saying a word.
"I remember feeling quite nervous having him watch me but then he asked me to go and fetch him a cup of tea because there was something he wanted to tell me.
"After that I spent an hour hitting balls and he told me to come back the next day at 9.30am sharp and that was it.
"Prior to our meeting I had been arriving before him in the morning and was still there when he was leaving so maybe he was impressed by my work ethic, for Bob used to repeatedly say that you only get out of the game what you are prepared to put into it.
"From that day on I worked with Bob until his illness and he kept telling me I had the ability and that I just need to keep working at my game. You must always strive for perfection, he would say. I spent five days a week, eight hours a day being coached by Bob and often at weekends as well. We also spoke every day to the extent that he became my best pal. He was like a grandfather to me.
"Bob effectively rebuilt something that probably wasn't very good, or certainly not good enough, and instilled professionalism in me. After he died it felt weird going to practice and him not being there, sat in his chair being that other pair of eyes you need to guide you.
"But I constantly try and imagine Bob still sitting there and he's always in my thoughts. Not a day goes by when I don't think of him.
"Alan McCloskey coaches me now and he's been great with me and helped develop my game. He also has an unbelievable knowledge of the game, much like Bob.
"It's hard to go from being coached by arguably the best in the world to someone else. But I have trust in Alan and I was fortunate that he agreed to take me on."
Forbes is currently attached to Mar Hall Golf & Spa resort near Glasgow as an assistant pro playing on the Tartan Tour.
But at 25, he has ambitions to advance his career onto a bigger stage if he can attract the necessary sponsorship to finance a stint on the EuroPro Tour and subsequently the European Tour.
He added: "I feel I'm improving all the time and that if I keep working on my game and manage to put together a consistent run I am capable of eventually progressing onto the Challenge Tour and, hopefully the main tour.
"And if the day ever comes when I'm standing in the winner's enclosure I'll look up and point to heaven and thank Bob for making it all possible.
"It was amazing the effect he had on people. He had an aura about him and from the moment he first pulled up a chair and watched me I knew he was special.
"He told me that one day I would do it and probably no-one else in the world had his experience, knowledge and ability to teach.
"Bob was probably the best golf coach that has ever lived and I feel very privileged that I spent so much time in his company; something very few people are lucky enough to be able to say."
Tagged Bob Torrance, Graham Forbes, Padraig Harrington