Arm Lock putter puts Kuchar out in front for 2016
Star putter pinpoints self-designed Bettinardi model for success on greens
Matt Kuchar, who has a one-putt average among the top three on this season's PGA Tour, paid tribute to his high-precision Bettinardi Arm Lock putter as he revealed the secrets behind his success on the greens ahead of this week's Scottish Open at Gullane, East Lothian.
The seven-time PGA Tour winner arrived for a fortnight of golf in Scotland having single-putted more than 44% of greens on the U.S. circuit using his Bettinardi Kuchar Model 1 putter. The American Ryder Cup star designed his 42" Kuchar Model 1 putter together with master craftsman Bob Bettinardi. It features a long grip that he locks parallel to his left forearm for a more stable putting stroke – a technique officially known as the Arm Lock.
Deemed legal by the USGA for January 2016 when the anchoring ban starts, the Arm Lock has also helped the PGA Tour's 'Mr Consistent' to an incredible 99.6% success rate from three-feet this year. Unlike most standard putters on the market which have lofts ranging between two to four degrees, this distinctive Bettinardi putter has 7˚ loft to compensate for Kuchar's forward press technique. The Sea Island resident also helped design the Kuchar Model 2 halfmoon-shaped putter that launched this year.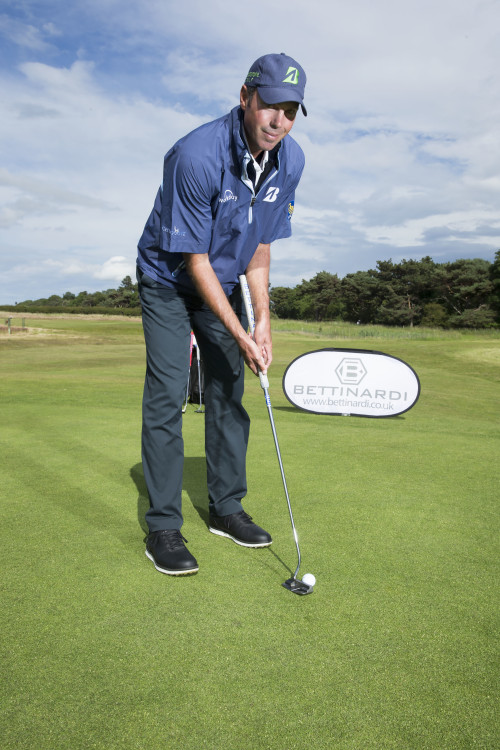 "I really see it taking off in 2016 when the anchored putter ban has taken effect," said Kuchar. "It's not considered anchored, as the butt end of the putter still moves.
"Because of the way it sits in your right hand, it keeps that right angle in the wrist and shoulder," he added. "Putting this way uses more of the bigger muscles and that helps eliminate some of those little flinching muscles that may come into play and cause some missed putts."
After originally experimenting with 15 different variations in 2012 and then putting the precision-milled Kuchar Model 1 blade into play a year later, the popular 37-year-old has since won three tournaments, including the WGC World Matchplay Championship, and claimed more than $10m in prize money.
"It was Matt's idea to try the Arm Lock method," said Bob Bettinardi. "He wanted something to take the small muscles out of his putting stroke and after testing he settled on the Model 1, because he wanted a blade-style putter with a wider body that gives him a better view of the sightline."
Like every model in the Bettinardi range, the Kuchar Model putters are specially crafted from one piece of high-quality carbon steel by skilled engineers and technicians at the state-of-the-art factory near Chicago. It features the brand's patented F.I.T. (Feel Impact Technology) face, which removes 55% of material from the face resulting in a softer feel at impact.
"With more and more golfers willing to paying a premium price for a putter designed to meet their needs, it's crucial they benefit from being fitted to their stroke," continued Bettinardi. "That's why all putters go to markets like the UK with uncut shafts, so the product can be tailored to the exact requirements of the individual golfer."
Both Kuchar Model 1 and Model 2 putters come in standard lengths and Arm Lock options. The Arm Lock putters weigh 400g and come in 7° loft, while the 350g standard versions come with 3° loft. Standard length putters are available with a Grey Pure Grip, while a Grey 17" WINN grip is used on both Arm Lock models.
Bettinardi Kuchar Model putters are available now at selected stores across the UK and Ireland at a RRP of £279. For more information, go to www.bettinardi.co.uk.
Tagged golf, The Golf Paper