Bettinardi putter makes the difference for AT&T winner
Red-hot putting Australian wins AT&T event with new Queen B model
A recent switch to the new Bettinardi Queen B 6 putter made all the difference for the winner of the AT&T Byron Nelson event at the weekend as he used the specialist milled flatstick to fire 27 birdies and claim a four shot victory over an impressively-strong field.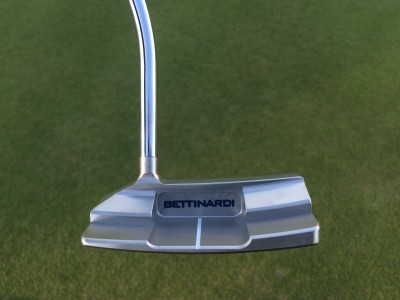 Using the classy wide-body, face-balanced blade milled from a single piece of double aged stainless steel, the Australian shot a final round 64 to see offRyder Cup players like Jimmy Walker, Brandt Snedeker and Jordan Spieth, and finish the week No.1 for strokes gained in putting (plus 4.429) and in birdies for the week. Claiming his second PGA Tour title, the champion had added 10 grams of lead tape to his Bettinardi Queen B putter prior to his first round at the TPC Four Seasons Resort, Irving, Texas, to give himself extra feel on the greens.
"I felt it was getting light just in my hands and I often do those things, just add some weight or take some weight off depending on how it's feeling. I just tend to get a little more feel with it," said the AT&T winner, who was also No.2 for putts per greens in regulation (1.577) for the event and won a first prize of $1.2m.
The Queen B Model 6 putter features Bettinardi's exclusive F.I.T. Face milling technology, which removes 55% of the material from the putter face for a softer feel at impact. It also incorporates a high-toe top line for extra confidence when standing over the ball.
"We'd like to congratulate the winner on a stunning victory over a really strong field this week," said Bettinardi founder and designer Bob Bettinardi. "We're also pleased his new putter proved so helpful to him over the four rounds – the face milling technology has been designed to provide extra feel and confidence, and it's great to see it delivering consistent results on the big stage."
The Bettinardi Queen B range also includes a compact stout mallet, the Queen B 7, which features a ridge-milled neck design that subtly flows into the putter head.
Both Queen B putters come standard with 3° loft, 71° lie and a White Pure grip available in standard or mid-size. Accompanied by a stylish royal purple head cover, Queen B putters are now available at selected stores across the UK and Ireland for a RRP of £279.
For more information, go to www.bettinardi.co.uk.
Tagged AT&T, Bettinardi, newspaper, press release, The Golf Paper