Meet the caddie who swapped the bag for a dram of whisky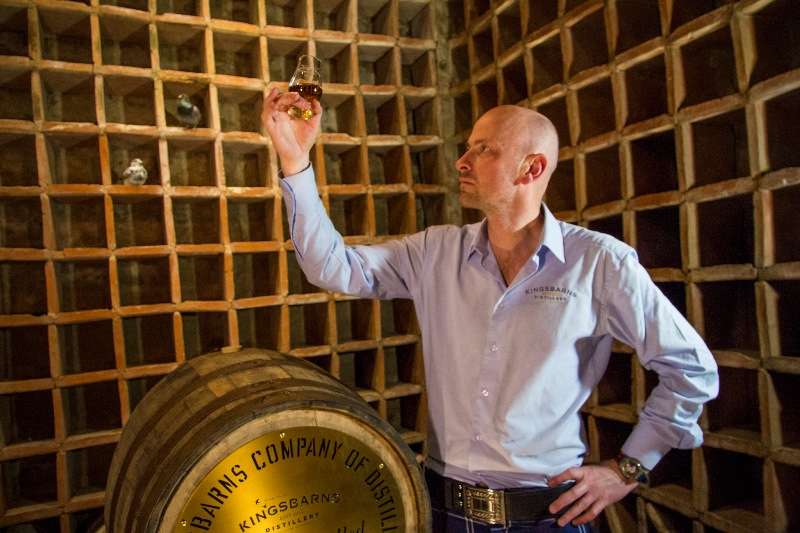 by Jim Black
Doug Clement was so fed-up guiding visitors away from the Home of Golf in search of a distillery that he decided to create one himself on St Andrews' doorstep.
Eight years of blood, sweat – and no doubt a few tears – later, Kingsbarns Distillery & Visitor Centre is operational at a cost so far of around £4million.
Turning his dream into a dram has been a labour of love for the 39-year-old former caddie, born in St Andrews and brought up on a farm near Anstruther.
It will be another two years before we get our first taste of the Kingsbarns single malt and another ten before Clement's backers see a return on their investment.
But it's all been worthwhile, according to Clement, who explained: "I was working as a caddie at Kingsbarns and whenever I was asked by someone if it was possible to visit a distillery nearby I always had to send them over to Fife, so I thought late in 2008 that I would try and set something up myself.
"There was no Eureka moment. The idea was born of folk asking and discussions with my mates in the pub.
"I knew of this old farm, where I used to play as a kid, that had lain derelict for 20 years, and when I drove past every day on my way to work I used to think that someone was going to turn the site into something fancy.
"Little did I think it would be me, as I didn't have much cash. But I had been caddying for 20 years and had a lot of business cards from clients.
"So I emailed a business plan and managed to raise some cash, which I used to get planning permission. That took two years until 2011 and then I spent the next 18 months on another round of fundraising.
"I had to deal with plenty of rejection and a lot of people, including my mum, thought I was crazy. But the turning point came in September 2012 when we managed to get a £670,000 grant in the form of European development money through the Scottish Government. As soon as that was in place it suddenly became a more attractive proposition."
But, realising that he still required considerable financial backing to push ahead with his plans, Clement persuaded the aristocratic Wemyss family, whose ancestral home is near Kirkcaldy, to come on board.
Owners of an independent group of companies, the new investors were prepared to sink £3million in what others had seen as too much of a gamble. But their involvement came at a price: ownership of Clement's dream!
He admitted: "Initially, it was hard to let this ship sail; to let my baby go, as it were. But the reality was that no-one was prepared to give me millions of pounds unless they had control, especially when they weren't going to see a return on their money for at least ten years.
"So, while it was hard signing the business over, I was happy in the knowledge that Wemyss will make it bigger than I could ever imagine. My initial plan was so much smaller. Anyway, what alternative was there when maybe the project wasn't going to happen otherwise? In truth, I never did this to make money, because I have never been motivated by wealth. That's why I became a caddie instead of following a corporate route after I graduated from Abertay University with a fist class business degree. For me, it was about turning the idea into reality – and the adventure.
"I sold my entire stake in the venture and the 14 or 15 original small investors – mainly golfing contacts – did very well when we were bought out in January 2013."
Almost two years later, on November 30, 2014 – coincidentally, St Andrew's Day – Kingsbarns Distillery & Visitor Centre opened officially.
The business currently employs seven full-time and ten part-time employees and will produce 140,000 litres of whisky annually.
Most of the ingredients are sourced locally, with the only imports being yeast and American bourbon casks.
The soil in Kingsbarns is perfect for growing the main ingredient, barley, and the local water supply fell as rain on the land 60 years ago and comes from a viaduct which was accessed by drilling down 100 metres.
The water is stored in sandstone, which is 330 million years old, and absorbs the character of the rock, making it mineral-rich and unique in the sense that the majority of distilleries take their water from Highland lochs or streams.
The whisky will have the flavour of a Lowland single malt, lighter than its Highland cousin, with a fruity fragrance.
The first cask sits in a 500-year-old B-listed doocot – or dovecote – which has become the centre piece of the distillery and something of a shrine to the spirit.
"We lose two per cent of the whisky each year in evaporation – the so-called angels' share – so instead of the doves rising to the skies, it's whisky," said Clement.
"By law, the spirit has to mature for three years and one day before it can be called whisky and the first limited release will be in March 2018, when bottles will be available to our 3,000-strong founder members' club.
"We don't know exactly when the whisky will reach full maturity. That is something we need to monitor. But we will be allowed to sell Kingsbarns whisky from that date, and members of the founders club, who pay £500 each, will receive a bottle a year from 2018 until 2022 of the very special release.
"But we need to make money in other ways in the short term. We already have a Wemyss gin brand and we have to focus on attracting as many people as possible to enjoy the visitor experience.
"There is a golf theme to the exhibition and a basic tour of the distillery, which includes a tasting of the spirit, costs £10.
"We also do a 'dream to dram' tour which is more expensive and lasts two-and-a-half hours and instead of two drinks you get six!
"We'll be sustaining big losses for the first ten years but after that it will be a good business. I originally spent 18 months pitching the idea to potential investors and most were looking for their money back over a three to five-year term. But quality malt takes eight to ten years before it is ready to drink.
"Although I have become moderately expert about whisky, I am not cut out for the scientific side of production. My strength is tourism and I am better out front running the visitor centre.
"In our first year we hoped to attracted 12,000 visitors and got 8,000, but the average spend per head was very good and now that we are more high profile we hope to get closer to our projected figure this year.
"Although I am no longer a shareholder, I am still a co-director with William Wemyss, who is a keen golfer and we play together quite a lot so we have bonded. But he is ultimately responsible to his board for the running of the business.
"I am grateful that the Wemyss family kept me on as Visitor Centre manager in charge of tours, the cafe and retail shop. They didn't have to do that, but I think they recognised that it would be good to have someone here to tell the story to visitors.
"I receive a salary and have two days off a week, supposedly. I am a bit of a control freak and after spending so much time on this project I want everything to be perfect so it's hard to relax sometimes.
"But the whole journey has been so exciting and I've learned so much. If it all ends tomorrow I am pretty confident I could go away and do something else. In fact, I was asked by Fife Council to be an ambassador for the region. There are five or six of us and it's a huge honour."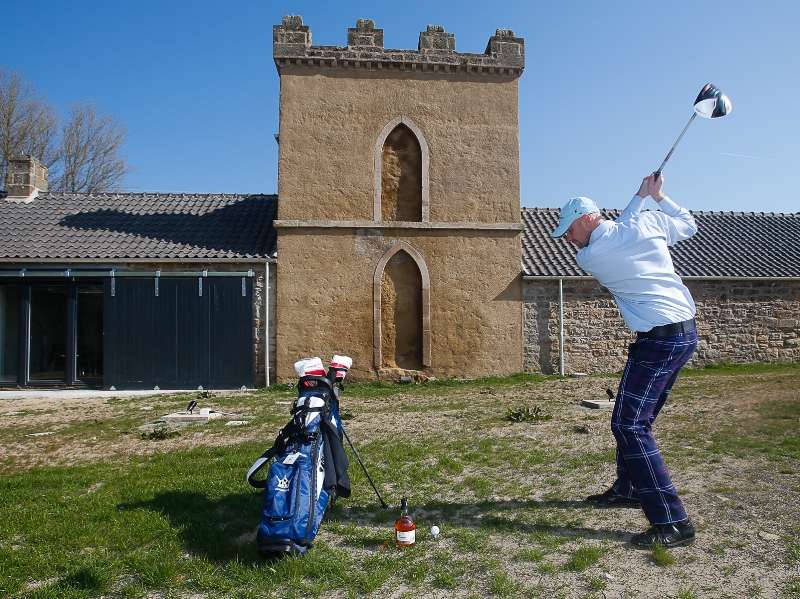 A caddie for eight months of the year and a backpacker for the other four, before dedicating his life 24/7 to the idea of producing whisky, Clement is a six-handicapper these days.
But he still retains a passion for the game, having caddied at Kingsbarns from its opening in 2000 and done various golf-related jobs at St Andrews.
He also carried Mathias Gronberg's clubs on the European Tour for a time and still occasionally takes a week's holiday to caddie for the Swede.
Clement is single and lives in a cottage a 15 minute walk – or, as he says, stagger – from the distillery, which has been an all-consuming vision.
He added: "I never doubted myself or woke in the night in a cold sweat, and when people come here and see what I have helped create and give praise it's a fantastic feeling.
"I've been lucky in a way but I probably made my own luck by having a good idea and surrounding myself with professionals as part of a core team that also believed in my vision."
Tagged St Andrews, The Golf Paper