Rose success a victory for Great Britain and golf as a whole
By Graham Otway
In years to come there could be many golfers at all levels around the world who will owe Justin Rose and Henrik Stenson a huge debt of gratitude after their epic head-to-head battle for Olympic gold in Rio on Sunday.
The quality of their play, the ­sportsmanship displayed between two close friends and the excitement ­provided by a sell-out 12,000 crowd at the Reserva de Marapendi course will surely convince the Olympic authorities that, after a 112-year absence, golf has a long-term future as a Games discipline.
That had looked in serious doubt over the past couple of months when top players like Jason Day, Jordan Spieth, Dustin Johnson and Rory McIlroy grabbed the headlines saying that they were boycotting the Olympics because of scheduling problems and fears about the Zika virus.
However, while it could be up to 12 months before the Olympic chiefs ­announce whether golf will even ­complete its "two-match trial" in Japan in 2020, all doubts should have been dispelled as a result of Sunday afternoon's ­compelling drama.
The first vote of thanks to Rose and Stenson should be heard from the voices of other existing tour pros and promising youngsters for whom the Olympic gold medal dream should now sit alongside their Major-winning fantasies.
Furthermore, despite McIlroy's ­controversial statement that he does not feel any responsibility to give anything back to the sport that has turned him into a multi-millionaire, benefits will soak back into golf at grassroots level.
For countries where it is still a slow-developing minority sport, to get long-term funding from national Olympic ­associations will be a huge bonus.
And the enthusiasm of most of the 60-strong field that took part in the men's tournament was best summed up by American Matt Kuchar, who climbed up the leaderboard to take the bronze medal by equalling the week's low score of 63 shot by Australia's Marcus Fraser in the first round.
Sitting with Rose and Stenson at the closing media conference, he said: "I'm guessing I speak for all of us up here. We are all fans of sport, the Olympics come around only once every four years and as a fan of sport you just can't wait to watch and root on the guys for your country and just see great things happen.
"For me, I grew up that way. I grew up a fan of sport. I had the dreams most boys have of hoping to compete in an Olympics, hoping to win a medal. The sport I ended up choosing was the sport that through my lifetime has not been an Olympic sport.
"When it did become an Olympic sport, the lights went off and said, how amazing, I can't believe I now ­potentially have the opportunity.
"I had a great last couple months of golf that crept me inside the top 15 in the world ranking, which was able to qualify me to make the US team. It took a couple guys not playing for me to get in and I thought this might just be fate. This might be fate for me to make the team and if I make the team, I might as well make the most of it.
"And just to say that you're an Olympian, it is really a dream come true. And then to make the most of it, to return home with a medal, is amazing."
And golf fans in emerging countries such as South Korea will have been ­excited to see the 67 shot by Jeunghan Wang and the 68 from Byeong Hun An in the fourth round.
However, that pair, and even Kuchar, were totally upstaged by Rose and ­Stenson, who produced a thrilling finale to the medal hunt.
It didn't quite live up to the high golfing standards that Stenson and Phil Mickelson set during their "duel in the sun" sequel in the final round of last month's Open Championship at Royal Troon.
It did threaten to briefly, though, as Stenson quickly closed down Rose's one-shot overnight lead by making birdie at the first two holes and the Hampshire man responded by sinking a four-foot putt on the third green for his second birdie of the day.
But some errors followed from both players, meaning the gap between them did not stretch beyond one shot until the final hole of the competition.
Both regularly had to step away from making shots because fans around the tees and fairways persistently refused to obey the appeals of marshalls, ­caddies and players to put away their cameras.
And on the third, when Rose pushed his drive into the crowd lining the right of the fairway, a teenage girl ­decided to pocket his ball and he was forced to take a drop from where it was thought to have landed.
However, the distractions were not as vital an issue as the strange sight that fans witnessed on the 14th tee just after Stenson had moved into a one-shot lead, with Rose having failed to get up and down from a green-side bunker at the previous hole.
After hitting his drive at the par-three, Stenson was given a three-minute back massage by his physio as he lay face down on the turf. And while the Swede still appeared to hit the ball with his usual power over the closing holes, he said later that it played a part in his ­failure to take the gold medal.
Stenson said later: "After my tee shot on 13, I felt my thoracic spine kind of lock up on me and started giving me a little grief. It wasn't the best timing to have that happen.
"I had my physio come out and he loosened it up a little bit. I think it just put me out of rhythm a little bit."
In his original design for the ­Marapendi course, American architect Gil Hanse created three finishing holes that all offered good birdie chances in the hope that the spectators packed in the stands around the 18th green would see an exciting finish to golf's first gold medal hunt since 1904.
And Hanse's Olympic dream came true even though, with a steadily strengthening wind blowing into their faces, Stenson and Rose did not go for the green at the closing par-five in two.
Both men laid up and, playing his approach first, Stenson, trailing by a shot, hit a wedge to around 20 feet from the flag to set up a birdie ­opportunity. However, the eventual destination of the coveted gold medal was decided two minutes later when Rose hit his 40-yard chip to 18 inches.
Knowing that he had to sink his putt to keep his hopes alive, Stenson charged his first putt seven feet past the cup and when he failed to sink the return Rose knew that he was home and dry.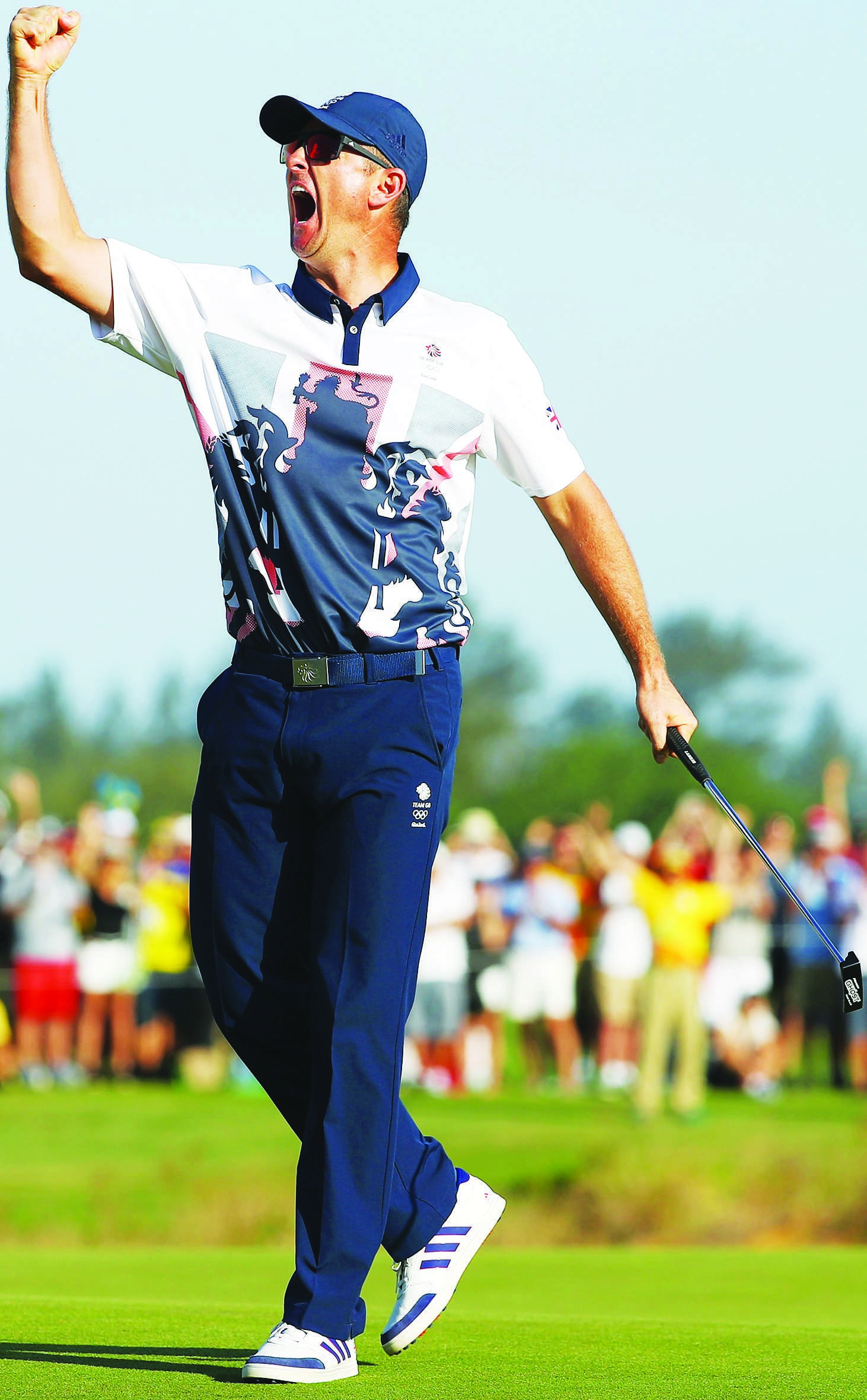 The Englishman calmly rolled his putt in to secure a two-shot margin of victory that was certainly a shot bigger than had looked on the cards earlier in the afternoon.
And Rose certainly would not have cared had he missed that first effort and needed a second attempt ­because the gold medal was his and the elation that shone through his smiles right through the presentation ­ceremony matched that of his other biggest win back in 2013. "I think it sits alongside the US Open trophy for me for sure," said Rose. "I said earlier this year that if my resume one day read 'multiple Major ­champion and Olympic gold medallist', I would be a very, very happy man."
If there was one element of the event that could be criticised it was the speed of play that saw the fourth round take more than five hours to complete.
One of the reasons for that was the amount of time Rose and Stenson spent ­discussing tactics and club selection with their respective caddies, Mark Fulcher and Gareth Lord. A lot of ­minutes were lost but both bagmen clearly had a huge input on the quality of the proceedings.
Despite their hard work, they will have been disappointed that, unlike the coxes calling the shots in the ­rowing, they were denied medals for their efforts by the Olympic rule-­makers.
That is another issue that should ­be discussed when officials get around to sorting out whether golf has a long-term future in the Games schedule.
Tagged Golf Olympics, Justin Rose, Olympics, Rio 2016